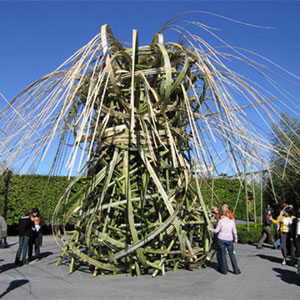 Sunday was the Earth Day Celebration for the Botanical Gardens. It was also Family Free day and the place was totally packed. The Botanical Gardens in Denver had a new Bamboo Sculpture "Kizuna" created by two famous artists Tetsunori Kawana and Stephen Talasnik.
There were so many people there Sunday, the parking lot and three level garage was completely full. There was no parking for a 4 block radius around the Gardens.
The children were literally everywhere, not just in the Mordecai Children's Garden.  Greeting many of them was a truly enchanting experience. I went yesterday all decked out in my Japanese themed dress, complete with obi and traditional kimono sleeves.  Many of the visitors called me a Japanese Butterfly. I wanted to bring in the culture of this years theme in the Botanical Gardens through my attire.
I spent the night before hand making little acrylic flowers made from pony beads.  Every flower was unique: some were glow in the dark, some were opaque, some crystal clear and still others were rainbow colors. I tried to match the colors of their clothes with the colors of the flowers I handed out..as most kids I know(I have three of my own) love to wear their favorite colors.
One little girl said with a huge bright eyed smile, "How did you know I love pink?!". I replied with a twinkle in my eyes, "Oh, just a guess".
I will be looking forward to my next adventure at the Botanical Gardens. Watch my events calender here and on my facebook page for more on where I'll be fluttering off to!
You will be able to see me this coming weekend at the Youth Empowerment Festival in Palmer Lake. I will be doing some of my famous hand bubbles and a few of my humongous bubbles too.
Please enter text here...